We are two Naturopathic Doctors on a mission. Our goal is to inspire, empower, educate, and promote health. The human body is incredibly complex and we work with it to optimize its inherent healing ability. Our aim is to listen, assess individually, and treat naturally. We would love to work with you on your journey towards your best health.
Dr. Aliyah Alibhai and Dr. Sarah Oulahen Turner are:
Standard First Aid with CPR "C" / AED level HCP (2008 – present)
Ontario Prescribing Course & Examination (2015)
NFH Advances in Women's Health Symposium (2015)
MTC 2: Advanced Clinical Patient Evaluation & Treatment: Miasms, Temperaments & Constitutions (2015)
Genomics in Practice: From Testing to Treatment. Dr. Mansoor Mohammed (2015)
Clinical Patient Evaluation: Miasms, Temperaments, Constitutions. Dr. Robert Abell, ND (2013)
Auriculotherapy, Auricular Medicine and Bioenergetic Medicine. Dr. Mikhael Adams, ND and Alison Adams D.Ac. (2012)
Phytotherapy: Advanced Learning, Research & Clinical Applications. Dr. Bruno Chacornac (2012)
OAND Convention: Emerging Trends & Treatments in Naturopathic Medicine (2011)
The Evolution of Disease & Biotherapeutic Drainage For Individualized Medicine, Dr. Robert Abell N.D., L.Ac (2011)
Sports Injury and Pain Management with Acupuncture and Chinese Medicine Teleconference, Dr. Neemez Kassam M.Sc., N.D., L.Ac (2011)
Biotherapeutic Drainage & Unda Numbered Compounds, Dr. Dickson Thom D.D.S., N.D (2011)
Making the right remedy work – always! Dr. Frederik Schroyens M.D. (2010)
One Day Unda Numbered Compound Intensive, Dr. Jacinta Willems N.D. (2009)
Facial Rejuvenation Acupuncture, Virginia Doran M.Ac., L.Ac., L.M.T (2009)
Integrative Oncology: Concepts & Strategies for Clinical Practice, Dr. Lise Alschuler N.D., FABNO (2009)
OAND Convention: Revolutionizing Medicine, The Connection Between Environment and Health (2009)
Nutritional Therapy in Medical Practice, Dr. Alan Gaby MD (2008)
OAND Convention: Exploring the Foundations of Naturopathic Medicine (2008)
OAND Convention: The Future of Naturopathic Medicine (2007)
---
---
---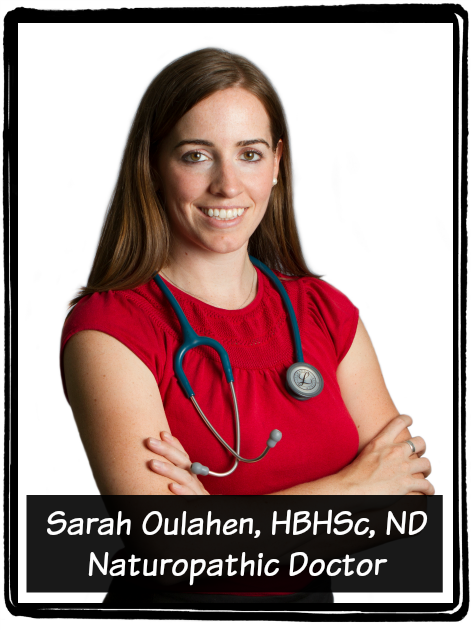 Dr. Sarah Oulahen Turner – Naturopathic Doctor
Sarah Oulahen is a licensed Naturopathic Doctor in Toronto with a passion for helping people discover and lead healthful lives, naturally.
Sarah is the Clinical Director and practicing Naturopathic Doctor at SOW Health.
Sarah has a generalized family practice and aims to help people achieve and maintain optimal health through the many milestones of their lives, but has a special interest in digestive concerns, skin conditions, environmental health, biotherapeutic drainage and women's health. She is particularly interested in helping women better navigate the complex stages of puberty, fertility and conception, and menopause.
---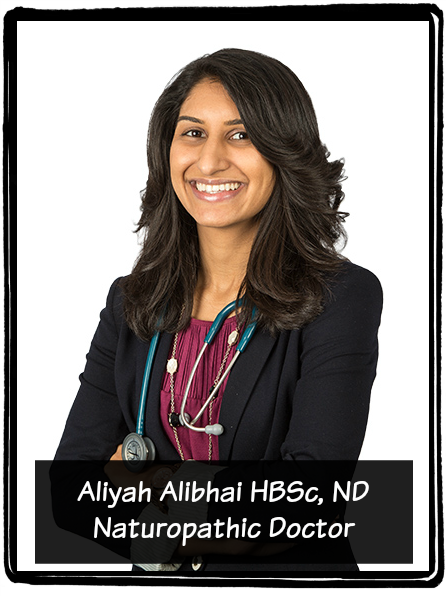 Dr. Aliyah Alibhai – Naturopathic Doctor
Dr. Aliyah Alibhai is a Naturopathic Doctor in Toronto and Brampton. She is passionate about helping empower people and motivating them to reach their health and wellness goals. Aliyah strongly believes that everything in your body is connected and when something is out of balance, these manifest as unusual symptoms or concerns.
Aliyah has a general practice where her goal is to optimize an individual's health and lifestyle she but is especially interested in treating digestive concerns. An unhealthy digestive system is too often overlooked and is frequently associated with other symptoms such as skin conditions, anxiety, asthma and allergies.  Aliyah also enjoys working with biotherapeutic drainage and hormonal imbalances. No matter what your ailment, Dr. Aliyah will provide individualized care based on a thorough intake including complete health history, lifestyle and environmental factors.
When Dr. Aliyah is not practicing Naturopathic Medicine, you will often find her striking a warrior pose at a hot yoga studio, running around on a ball hockey court, sporting her throwback Toronto Raptors jersey or spending time with her favourite nieces and nephews. Aliyah also loves concocting new juices and smoothie recipes and can make a mean Guac!